"Dreams...What are mine?"
-Jerri Blank
I've been having real intense vivid dreams lately. Its very rare I have dreams that still linger with me for a couple of days. Usually, I'll wake up from a trippy ass dream and be all "Damn, that was a fuckin crazy ass dream." Then I forget about the dream all together. This one that I had recently was so fuckin vivid and haunting that I can't stop thinking about it.
The other day I had a dream that I was about to do a solo for
Wolf Hudson
and
www.cockyboys.com
. Wolf is set to direct scenes for the website. I talk to Wolf all the time on Twitter. So to have him pop up in my dreams is no surprise. The dream all took place in Las Vegas. The dream starts of with me walking in slow motion through the MGM Grand Casino. The MGM Grand is one of my favorite casinos in Las Vegas. I like how old school it is in there. From the carpeting to the decor on the ceiling. Every time I walk in the MGM I feel like I'm in a time warp. Like I got flung into Scorsese's
Casino
. Everyone around me is having a blast. Winning money, throwing dice, placing bets on the Roulette table. Everyone is moving in this slow paced fashion. As I'm walking past the Casino I end up walking into a convention/show room. The show room ends up being some sort of lingerie convention. There were a shitload of vendors with all sorts lingerie in their booths. I walked around and started touching all the different lingerie pieces. I love touching lingerie. I dunno, whenever I touch it I try and picture what it would look like and feel like on a beautiful woman. I have a lingerie fetish. Not to the point where I wear lacey panties and shit like that. I just like the way it feels and when the right piece of lingerie fits a woman well, it looks amazing. As I was walking through the lingerie expo I saw a bunch of the Leg Ave. lingerie models. I got real excited cuz these women are gorgeous and they make Leg Ave. lingerie look fantastic. I didn't get a chance to talk to them. I was more observing them on the show floor mingling with potential buyers, sipping champagne, laughing, and looking drop dead gorgeous. Here is a picture of one of the Leg Ave. models I saw in my dream.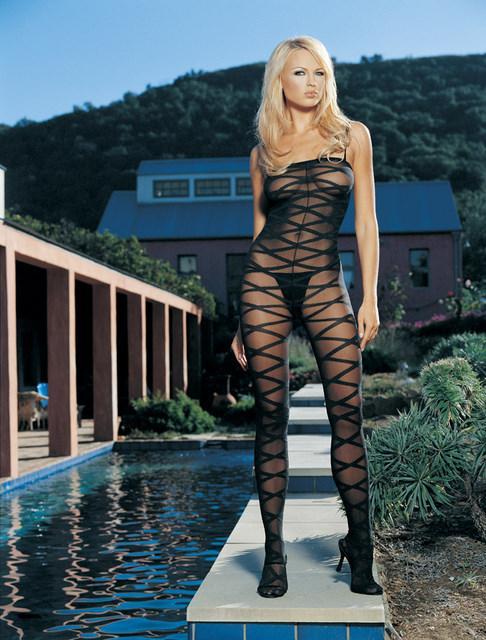 I leave the show room and head to the elevators. I go to the 17th floor. I've never actually been in any of the rooms at the MGM Grand. I've only been to the Casino. When I got out the elevator the the light in the hallway was very dim. The carpet had dark greens and bright yellows. I walked down a long hallway. I was the only one in the hallway. In the distance I could hear people laughing and talking. I walk towards the commotion. I see an open door down the hallway. I walk towards the open door. I look inside the suite and see Wolf Hudson getting a camera ready. he tinkers with the camera, while 3 other good looking dudes are chilling on a nice, huge comfy couch. All three guys are wearing different boxer briefs. One of them has a shaved head and has several tattoos. The other looked Latino. He had a short fade and had a nice lean body. The other one was a cute white boy with Light brown hair and green eyes. They were all drinking those huge souvenir drinks full of alcohol. They are talking, and giggling and having a really good time. The Latino looking one notices me and invites me in the room. I had noooo clue who he was but he said hi to me like he had known me forever. I walk in and say what's up to Wolf. Wolf says hello but never looks at me directly when he said it. He was too busy tinkering with the camera. I walk towards the guys and they make room for me ont he couch. They tell me that I need to catch up with them cuz they're all fucked up. I felt sober, so I took them up on their offer. Wolf told the guys not to get me too fucked up because I he was almost ready to start shooting again. Wolf also informed me that it was my turn to do a solo. I told him I wasn't gonna be doing any solo but he mentioned that I had already agreed to do it weeks ago. I started to freak. I wasn't ready to do no solo. The guys sitting on the couch were telling me that solo's aint that bad and that it would be a good time. I sat on the couch taking huge swigs on one of the drinks. Wolf asked the guys to leave us alone for so I can get ready for my solo. The guys grab all their drinks and start to head to one of the bedrooms in the suite. Wolf goes back to dealing with the camera. I walk over to the huge windows to look out towards the strip and lose myself...
I'm really fuckin nervous. All these thoughts start to flood my head. I hear all these voices telling me what to do when the cameras turn on. Some of the voices are cheering me on while other voices are putting me down for what I'm about to do. I look over at Wolf, he is still walks towards the couch and sits in front of the camera. I lean my forehead on the glass. I start to breath real heavy. I close my eyes and try to tune out all those voices invading my brain. It's not working. I open my eyes and look at all the lights and commotion going on out on the strip. The lights start to hypnotize me. I close my eyes again and I can still see and feel the lights from the strip. Wolf calls out my name. He breaks me out of my trance. I look over towards him and he has a huge smile on his face. He informs me that he is ready to go. I walk slowly towards the couch. I take a seat and look straight at the camera. I tell him to give me a second to think. He comes over and sits right next to me. Wolf puts his hand on my shoulder and lets out a deep sigh. He gives me a smile and tells me that I'm gonna do an amazing job. I look at him for a very long time. He rubs my shoulders and comforts me. I try to ask him questions but he keeps interrupting me. Not in a bad way, he just tells me that he is tired of all my excuses and that it was time to finally get over it. I let out a couple of deep breaths and look him in the eyes. He knew I was ready. I notice that I'm grabbing on to the couch cousins really hard. I let go of my grip and wipe my hands on my shorts. I look over at Wolf Behind the camera. Wolf starts to ask me all sorts of questions about my personal life. I answer them without hesitation. It's weird cuz I didn't have control of what I was saying. Answers to his questions just started flowing out of me. Wolf then gets me to take of my shirt and shorts. I am wearing some tight white boxer briefs. I start to rub my crotch, trying to get myself hard when all of a sudden...
I wake up.
I dunno what to think of this dream. Well for starters, it was a pretty cool dream. But for me, it felt more like a vision or epiphany or something like that. Yesterday I was texting my friend
Jeremy Lucido
about doing solo videos. Ever since I started shooting porn I've thought about whether or not I would ever get in front of the camera. Lately, I've been considering the possibility of jumping in front of the camera. I don't think I have the balls just yet to actually do it. But the thought of getting in front of the camera does cross my mind from time to time. I mean, I've done web cam stuff with friends and people I've chatted on over the Internet. Why would I have any qualms doing it in any other aspect?
I take dreams like these as little signs of what's to come. This dream has been lingering in my head for a couple of days now. The thoughts of getting in front of the camera come up quite often when I shoot porn or even look at DVD box covers. I doubt I will be getting in front of the camera anytime soon but the thought never really dies in my head. Maybe I need more awesome dreams like this one to finally convince me to get in front of the camera. For now, I'll just stick to my semi nude pics and crotch shots. Everyone has a start right?
:)